Willow Spring's Steps Challenge Took An Entire School Up Mt. Everest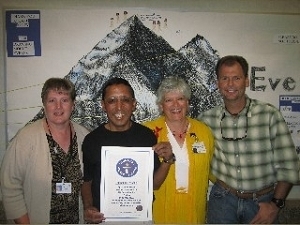 The Healthy Draper Foundation managed by The Draper Area Chamber of Commerce acquired a grant in 2007 to provide 1500 pedometers to families and children in the Draper area. The purpose of this grant was to challenge the community to walk and change their lifestyle habits.
When the Healthy Draper Steps Challenge began in April, the Willow Springs Elementary school joined in challenging every child and teacher to wear a pedometer for 10 weeks. The entire school met this challenge with great enthusiasm. Rebecca Evans organized a simulated climb up Mt Everest with every grade level competing in the race to the top. There were seven teams led by 21 teachers and combined they climbed 1,000,050 steps. Eight teachers led their classes to the top of the Mountain.
The idea for climbing Mt Everest was inspired by a 6th grade student, Dawa Sherpa, whose father, Apa Sherpa, has climbed Mt. Everest 17 times. They studied the actual climb up Mt Everest and what it took and the sacrifices that were made. Every class tracked their steps each week and turned them in to Rebecca Evans who converted them to their distance traveled up Mt. Everest. Each week the student's progress was announced over the loud speaker which kept everyone motivated and competitive.
The Healthy Steps Challenge was made a huge success thanks to a creative idea and the participation of everyone in the school. Rebecca Evans reports that 70% of the participants made healthy choices and increased their walking & running during the challenge. The Healthy Draper Foundation awarded the school with T-Shirts saying, "I Met the Challenge". The School plus hundreds of other community participants made the Mathewson Grant a great success. Many thanks to all of you for your participation in this grant.
Way to go Willow Springs Elementary!